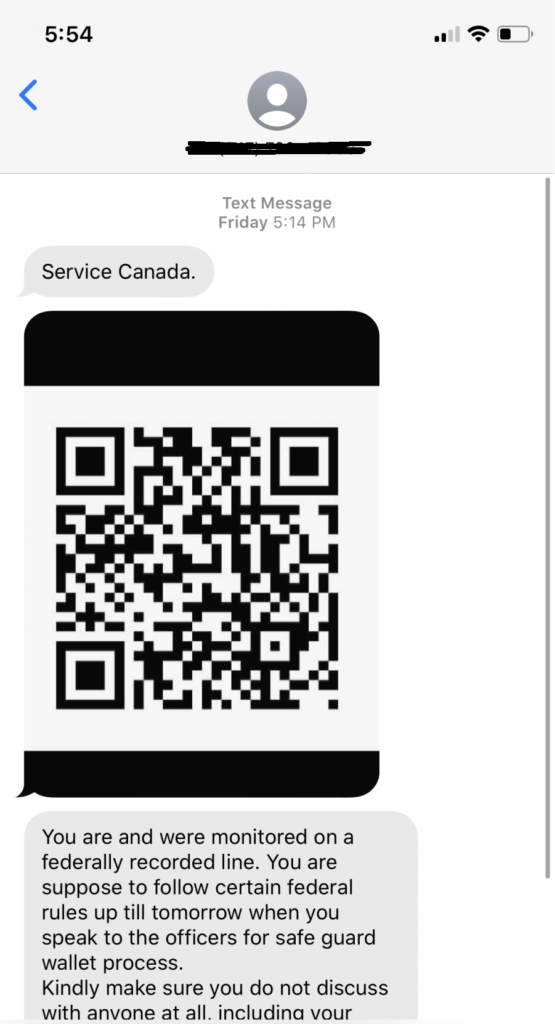 If you have been caught up in this scam, you have a better than average chance of recovering funds.
The first "CRA scam" was reported to BitcoinWhosWho.com in August 2018. Since then, there have been dozens of reports of this particular tactic and it continues to fool a lot of people.
The most frequently reported CRA scam, aka "SIN scam", bitcoin address has received 567BTC (as of Sept 9), worth almost CAD$8M.
Based on input transactions to this address alone, it appears to be scamming 2 or 3 people a day out of ~.33 BTC a pop.
The fraud starts with a caller ID spoofing Service Canada, Canada Revenue Agency (CRA), Royal Canadian Mounted Police (RCMP) or even sometimes reportedly the FBI. The caller claims there was fraudulent use of your Social Insurance Number (SIN) and only by visiting the closest crypto ATM and depositing BTC into their wallet (which they will conveniently text you a QR code for!) will they be able to "assist". Don't fall for it!
These are typical descriptions of the fraud taken directly from BitcoinWhosWho.com Scam Reports;
…phone scam to convince people to pay money into bitcoin ATM, they pretend your social security ID has been stolen and used in crime and that you need to secure your money to prevent it being stolen. Get you to go your bank, take out all your money and then direct you to nearest bitcoin ATM and pay in all your cash.

– June 26, 2020
They made me believe that my money would be secured and held in this account for a day then returned to my once I got a new my social number, because my old one was fraud.

– Jan 7, 2020
Spoofs real CRA and local police phone number and claims my sin has been stolen and multiple charges are put under my name. need tomove my savings into a wage guard wallet before bank gets frozen.

– June 22, 2020
Impersonates RCMP and Service Canada regarding "Fraudulent use" of SIN. Provides "Government Security Wallet" to deposit funds. Claims will "secure SIN and funds".

-June 22, 2020
According to the bitcoin blockchain, the most frequently reported CRA scam bitcoin address [1Q2j7UQECVREhxmUFcHCgQVbTUxT47Bk9d] is one jump away from an address with repeated outputs to a commonly known Binance address. This potentially means law enforcement has a chance to intervene.
This is the link:
1Q2j7UQECVREhxmUFcHCgQVbTUxT47Bk9d
sent 3 transactions to
1Ax7QmNrCppjXyhsrUFMv7xE2FswU95Pp3 (which belongs to the same wallet as another reported CRA/RCMP scammer – yes, we're making the leap they are the same actors – 19sYMCzfsNg5m9oCRxxvjiMdEfReYg6TYX)
which has sent 23 outputs to Binance's main bitcoin address
1NDyJtNTjmwk5xPNhjgAMu4HDHigtobu1s
If you have fallen victim to this scam, you are not alone, and there is hope. Contact us for more information about your options.
***
You help police and deter future frauds by always reporting scam addresses to BitcoinWhosWho.com. Just lookup the address and select "Report Scam".
All scam report data is accessible to crypto ATM providers, law enforcement and blockchain forensic firms.
Don't forget to follow us on Twitter and like our Facebook page!