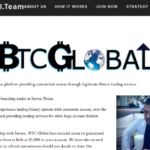 BitcoinWhosWho received multiple independent reports of a ponzi collapse called "BTC Global" run by "Steve Twain" using bitcoin address
The total received balance is 4,575 BTC as of 24 Feb 2018.
29,000 people reportedly scammed by promises of 14% weekly returns.
Reported websites:
https://btcglobal.team
https://btcglobal.microsoftcrmportals.com
Scam Report Details
They promised with 14% return weekly but not gave pay out to their members this week. I have just joined this week and i want money back. I want to know if it is possible to demand my money back.
Took investments from me and promised a return of 25 per day which never materialised. No feedback or any contack can be established.
this BTC address Wallet is being used to scam people as a front for a BTC Global investment which is actually a ponzi scheme defrauding 29 000 peoples of their money and bitcoin in return for a 2% daily weekly being 14% returns on their $1000 investment. this account is a fraud and want to report it, to avoid any further losses to innocent persons. please assist in freezing or cracking down on this type of people who pray on people's desire to join and grow the bitcoin cryptocurrency to better their lives but fall victim to this type of snakes. i have proof transactions and the website used as i front for this fraudulent activity, scams and heart breaking operations.
He is stealing money from people saying that you get a 14% return in profit weekly. He is not keeping to his promises and he is not paying the people
These addresses were also reported as BTC Global (updated list March 1):
3LgpGgTbyrjy7fmh5dVcb2ufQkyHYeh1hL
3PMCrXdFmCDDNUR5qHiNWKGeABRHFoLCGb
3NMvd8TdbKPUiNKtryLbViVEPiVSzPVG49
3422VtS7UtCvXYxoXMVp6eZupR252z85oC
3JXRVxhrk2o9f4w3cQchBLwUeegJBj6BEp
3H3tsAsuQ3tT49QUkzoVvj4iQFHjAzKw9f
3EtTKptwEKaGLV3gGPYktnH8YJwAwS3F5v
Are you aware of any further addresses? Leave a comment below or send us an email.
***
Help police and deter future frauds by always reporting scam addresses to BitcoinWhosWho.com. Just lookup the address and select "Report Scam".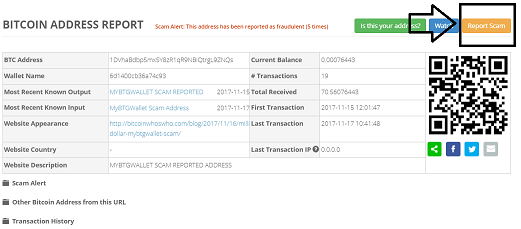 You may also report to the FBI https://complaint.ic3.gov/default.aspx
All scam reports are accessible by keyword search on our website or from our "Blacklisted Bitcoin Address" API.
The safest place to buy bitcoins in the United States is Coinbase.com