BitcoinWhosWho received many cloud mining fraud reports in December, but aside from the NiceHash hack, none were more remarkable than the SierraHash cloud mining scam. This multi-million dollar fraud was pulled off in just three weeks! More than 86,000 transactions since November 16 with a total received balance of 177.46647418 BTC as of yesterday.
The principle SierraHash bitcoin address:
This is how one report described the scam.
HYIP BTC mining scam that involved encouraging users to register by offering free mining hash power. This account was used to collect funds from investors. The scam lasted from 16th November then stopped paying investors on the 6th December. The site was left active but without ability for investors to withdraw after the 6th.
Is this the fastest ponzi ever? Auroramine was 1,542 BTC in 30 days (39.59 BTC transaction fees paid). Please share the QuantumHash address in the comments if you have it.
***
Help police and deter future frauds by always reporting scam addresses to BitcoinWhosWho.com. Just lookup the address and select "Report Scam".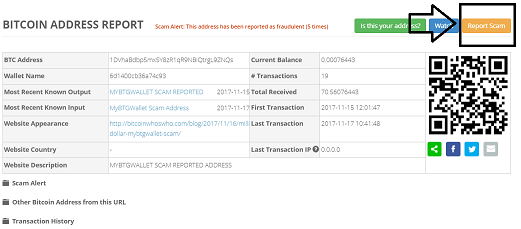 You may also report to the FBI https://complaint.ic3.gov/default.aspx
All scam reports are accessible by keyword search on our website or from our "Blacklisted Bitcoin Address" API.
The safest place to buy bitcoins in the United States is Coinbase.com