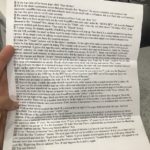 Not all bitcoin sextortion attempts are occurring over email right now. Reports of a highly customized blackmail letter received in the mail and claiming to have "evidence" of a "secret you are keeping from your wife" and demanding payment in bitcoin in order not to tell, started coming in late 2017 and continue today. Krebs on Security blogged about this scam in January. Back then the amount demanded was around $2,500. In May typical reports had risen to around $8,500. Today the letters are demanding as much as $15,500.
Reported blackmail letter bitcoin addresses that included demand amount
| Scam Address | Reported Date | Demand Amount ($ USD) |
| --- | --- | --- |
| 1AerHTezypgLJHpcDNMd6mdPKJPeQWxPhD | 21 Nov 17 | 2500 |
| 14i82QBptbM11siMo3i5gkv9RpMmN843X5 | 5 Jan 18 | 3600 |
| 17JTXjM2goxynTe19gzi48p336VmZKqoBD | 26 Apr 18 | 8600 |
| 1HuPqHpdkZBSpGGL6gMCfCv4VumQvcwvQm | 27 Apr 18 | 8500 |
| 19fkuKV4TgR9bHK7ioCfEJJyd74ARfhYDX | 12 May 18 | 8800 |
| 1PmvKMqrufyv4ysmhjToDvGWdXHBWpHS6R | 17 July 18 | 15100 |
| 15tTXnvpwmz6cEoUb8dQvmrTe4NDN1zpzY | 13 Jul 18 | 8100 |
| 17qQ5q6gBETZvKihLpqa4oMZKoXCQdVi6q | 2 Aug 18 | 15500 |
| 193e5vrqEooFMX6cq5DCdBRv1N7igjChY9 | 7 Aug 18 | 9150 |
However, the scammers may have a problem. It appears not enough people are falling for their ploy. None of the bitcoin addresses reported to BitcoinWhosWho.com have received a payment. Could the reason for the price increase be precisely because no one is paying? Is it better to charge more if only a few are going to fall for it anyway?
Sample Text of Letter
Hello [your first name], I'm going to cut to the chase. My name is [varies] and I know about the secret you are keeping from your wife and everyone else. More importantly, I have evidence of what you have been hiding. I won't go into the specifics here in case your wife intercepts this, but you know what I am talking about.

You don't know me personally and nobody hired me to look into you. Nor did I go out looking to burn you. It is just your bad luck that I stumbled across your misadventures while working a job around [your town]. I then put in more time than I probably should have looking into your life. Frankly, I am ready to forget all about you and let you get on with your life. And I am going to give you two options that will accomplish that very thing. Those two options are to either ignore this letter, or simply pay me [USD$XXX]. Let's examine those two options in more detail.
The rest describes further the options and supposed consequences and then provides a page of details about how to buy bitcoin on LocalBitcoins.com.
If you were about to fall for this until you found this blog post, a little consideration: 1MX96CwmUJABMwAiU4PjSxjm1Avr2cDHPd
***
Help police and deter future frauds by always reporting scam addresses to BitcoinWhosWho.com. Just lookup the bitcoin address and select "Report Scam".

All scam reports are accessible by keyword search on our website or from our "Blacklisted Bitcoin Address" API.
The safest place to buy bitcoins is Coinbase.com
Don't forget to follow us on Twitter and like our page on Facebook.