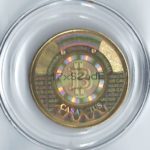 UPDATED 6/13/17: A second 2011 first series Casascius physical bitcoin has sold on eBay for $10,100, eclipsing the previous record set last week by $3,000! This one was not in mint condition either having been "removed from the capsule only twice". The address 16cVGhzpeNzCKNcz4q5jBoKzNJRKHds4av still shows 1 BTC.
ORIGINAL: A mint 2011 series 1 Casascius physical bitcoin sold for USD $7,100 on eBay yesterday. The address, 17xS2adEin5TYQU4xnaBYaHoQDEzHvkg6L, containing 1 BTC, attracted 14 bidders and started at $.99 on May 26th. A bidding war for the "physical" bitcoin reached $2,500 after the first day and $4,050 to start the last day June 5.
First series Casascius coins are highly sought after by collectors. During the last bitcoin price spike in 2013 many changed hands on eBay for about ~USD$3,000.
5,140 of the 11,000 first series 1 BTC Casascius coins in circulation contain the same error, a missing "s" in the watermark, according to elianite.
A far more rare "double error" version of the 2011 series Casascius coin exists where the "S" is missing and the firstbits are printed 3mm higher than the others. Only 5 of these are known to exist and one of those is thought to have been spent. How much do you think that would go for?!
Casascius coins were originally created by Mike Caldwell starting in September 2011 and continued until November 2013 when he was shut down by the Financial Crimes Enforcement Network (FinCEN), a branch of the Treasury Department. See also bitcoinwiki.
More on the double error "Casacius" coins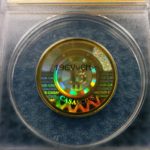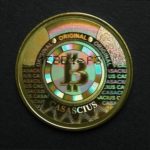 Firstbits of the known 5 double error "Casacius" coins:
1FBD1ef3
19GVvGMx
If you have any information about these or the other double error Casascius physical bitcoins please drop us an email or leave a comment.